Trying to find a trusted Pay N Play casino to visit and play at? We've compiled a list of the top Trustly Pay N Play casinos for international players. Read our guide to learn more about how it works and how you can get started playing with instant deposits and payouts.
---
Top Pay N Play Casino List 2023
Check the latest Trustly Pay N Play casinos and alternatives in the comparison list below, put together by our experts. European players accepted.
---
What is a Pay N Play casino?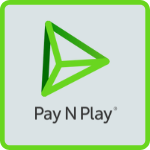 Pay N Play casinos have been around for quite some time now. Their purpose is to make the registration process at a casino site significantly easier, to great success.
The terms "casino without registration" and "no account casino" are common within the casino industry these days, since several years back. What it's referring to is – most of the time – Pay N Play gambling sites, or variants of it.
Pay N Play is a payment method that comes from the Swedish company Trustly, who've designed the service to practically eliminate the need for a long, manual registration process. It also allows for faster deposits and withdrawals compared to traditional account creation.
A Pay N Play casino is simply a casino that allows players to register by depositing the amount of money they want to play with, without having to manually create an account.
How Trustly works
Trustly is the company behind the Pay N Play feature and has been around for many years to serve as a way to make transactions easy online.
You're not required to download any application to use Trustly – it all works seamlessly when you deposit funds at a casino site. During this process, an account is automatically created for you at the casino, with no additional personal information needed.
Pay N Play works specifically in conjunction with electronic identification. When you use Pay N Play for the first time, you get to verify your identity using an electronic ID. This allows you to simply make a deposit at the casino and get started playing right away.
---
How to play at Pay N Play casinos
We've put together this quick guide to help you get started with Pay N Play casinos. Trustly has already made it easy for us so we'll just go through each step quickly to get you up to speed with how things work.
Choose a Pay N Play casino from the comparison list above. We only list trusted sites that accept players from around the world, such as Europe.
Hit the "Deposit" button, usually found in the top right corner of the site. Enter the amount you want to deposit. Note that there might be a minimum deposit requirement.
Select a bank from the drop-down list presented to you. This will change depending on where you live.
Verify your identity using your electronic identification, to confirm that you're you.
That's how simple it is to get started playing at a Pay N Play casino! You simply pay, then play – as the name suggests. Gone are the days of manual registration.
---
The benefits of Pay and Play
The service brings a lot of advantages with it, compared to other traditional payment methods. It has, in a way, completely changed the way we play at new online casinos. Since the launch of PnP, the industry has slowly embraced quick registration and moved away from the traditional, manual processes.
Due to the many advantages of this method, more payment providers are trying to move into the same space. Here are some of the benefits you can expect at a Pay N Play casino:
Quick registration, no manual process
Instant deposits and payouts
Secure transactions via Trustly
Play without creating an account
Available on mobile without an app
The above are just some of the upsides of using Pay N Play. Note that if you're using PnP when making a deposit, most of the time you'll need to use it for your withdrawal as well. This won't be an issue for most players, but it's worth mentioning in case someone was looking to use another payment method for their payout.
---
Alternative payment methods
If you can't find any Pay N Play casinos online, or simply don't want to use Trustly to register at any gambling site, there are multiple alternatives to keep an eye out for. These payment methods don't necessarily work the same way, however, as they may not offer automatic registration.
We like having options, especially since PnP isn't always available. It'll also depend on where you live. Some locations may be blocked from using the service. Even with alternative payment methods, you'll find that transactions are fast. The main difference is going to be the registration process, which can take longer and require personal details to complete.
These are some of the best alternatives to Pay N Play:
VISA/Mastercard
Zimpler
Bitcoin
Skrill
Neteller
Some payment methods may not be available where you live. Every country has different regulations in place. Depending on the license a casino has, it may accept a different set of payment options in your country. This can be checked by visiting the 'Payment' page of the casino site. It'll list the methods accepted for deposits and withdrawals where you live. If no such page is available, contact their customer support.
---
Trustly Pay N Play summary
To conclude this guide, we'll leave you with a brief summary of what we've gone through so that you're fully prepared before you start playing at a Pay N Play casino site.
Pay N Play comes from Trustly and is a payment method that enables easy registration, instant deposits and quick payouts. It allows you to play without leaving all the personal information you might otherwise have to share with the gambling site.
You're not required to download any application to use Trustly Pay N Play, and it's available both on mobile and desktop. The main competitor and alternative is Zimpler. Start playing today by selecting a casino from the comparison list at the top of this page, and enjoy!
---
FAQ
Do Pay N Play casinos come with fees?
No, you can enjoy using Pay N Play without any deposit or withdrawal fees. The reason for this is that it's the casino operator that pays any potential fees, so that the player doesn't have to.
Are Trustly casinos safe?
Yes, registering using Trustly is very safe and transactions are completely secure. It's often regarded as one of the safest ways to play at online casinos.
Is there a minimum deposit required?
There is no minimum deposit requirement tied to Pay N Play. Instead, it's up to the casino, and will also depend on the currency you're using. Rarely, a casino will offer a no-deposit bonus, removing the need for a minimum deposit requirement at all.
Do I need a Pay N Play app?
No, you can play at a Pay N Play casino without downloading any app or services. It's sort of the point of Pay N Play's existence, even.
---